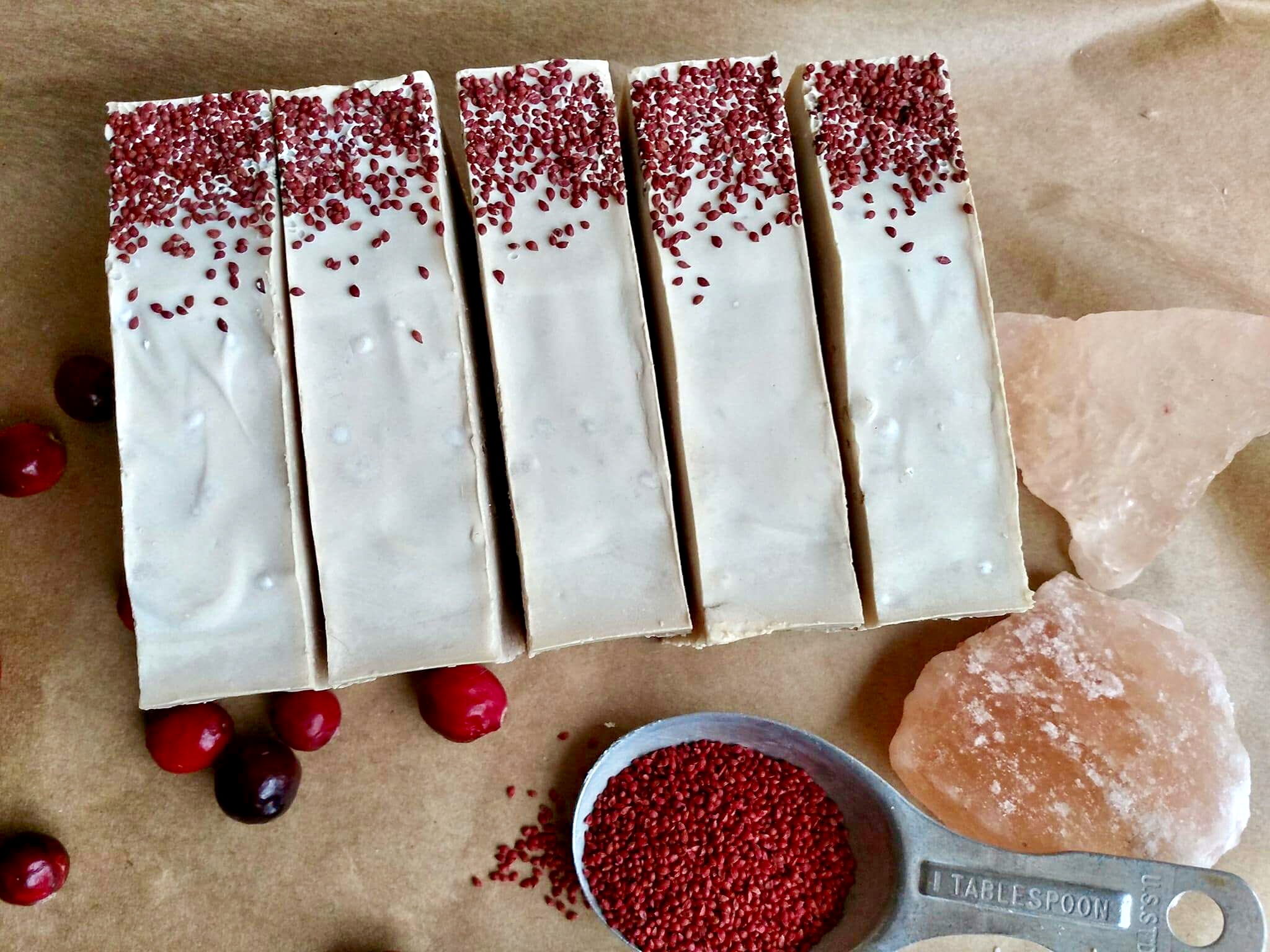 Sparkling Cranberry
Homemade in small batches, this cold process soap Is scented with the tart bright notes of sparkling cranberry, currants and pink grapefruit. This is not your traditional seasonal cranberry soap scent! Ultra luxurious, this soap stands out with the addition of tussah silk and Himalayan pink salt. It is interesting to note, that during the soap making process, when the silk is added to the sodium hydroxide (lye) to dissolve, it creates an almost shimmery liquid. Liquid silk! Although the visual effect does not last in the final product, the liquified silk, in turn with the salt, adds a beautiful skin feel to the soap. Topped with cheerful red cranberry seeds for extra scrubbing power and seasonal appeal! (Although don't be surprised if it makes the cut for year round availability!)
Many of my listed soaps contain different ingredients from one to the next, but that is what gives them their farmhouse charm by using whatever is on hand! If you are looking for a soap with a specific ingredient, let me know! I may have just what you're looking for in the works or on the curing rack! Keep in mind, it can take several weeks to cure (even more for some soaps!) I can ship about 6 soaps in my smallest shipping box option.

Details about this listing
Weight: approx. 4 oz bar of cold process soap
Dimensions: approx 3.5x 2"X 1"
I have found this to be the a perfect and manageable handheld size!
List of ingredients since it's nice to know what you're getting into...(The shower with!)
Ingredients: Coconut oil, water, pink himalayan salt, sodium hydroxide, apricot kernel oil, grapefruit essential oil, fragrance, bamboo extract, tussah silk, cranberry seeds, titanium dioxide